Another weekend almost over...I really need my weekends to last a little bit longer. I had so much stuff I wanted to do this weekend, but didn't have the chance too. It was a great weekend though- I played Trivia on Friday, Christmas baked with my grandmother on Saturday and a visit and dinner with a childhood friend later today.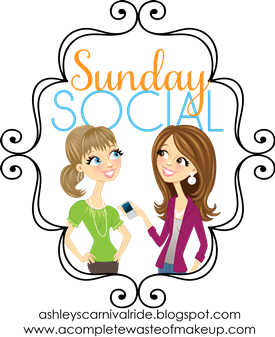 1. What is your favorite Holiday season tradition?
I love so much about the holidays, it's hard for me to pick a favourite tradition. Since I did it this weekend, I'll say baking with my grandma. She only bakes at Christmas, and each year we bake one thing together (this year was shortbread cookies). We listen to Christmas music, talk and make a mess in her kitchen. It's so much fun and I see it as the 'official' kick-off to Christmas.


2. Do you have a certain Holiday movie you watch more than others? If so what is it?
Elf! I LOVE Elf and watch it whenever it's on tv. Also, my sister and I will watch it a bunch of times during the holidays too.
3. Show us your favorite decoration or pinterest decoration you wish you could have
I don't have a picture of it and it's in storage at the moment, but it's an ornament my godmother gave me. It says 'Baby's first Christmas' on it.
Another favourite decoration is a metal, decorative reindeer my little cousin gave me for Christmas a few years ago. It's actually on the mantel of our weekend house and stays up year round. According to my cousin, during the holidays it's a reindeer and the rest of the year it's just a regular deer. How cute is that???
4. Favorite Holiday song?
I hate this question! I have sooo many favourites! Here are a few
I Pray on Christmas (Harry Connick Jr)
12 Days of Christmas (Straight No Chaser)
Hark! The Harold Angel Sings
Silent Night
Santa Claus Is Comin To Town (The Sing-Off)
5. Favorite Holiday dessert?
Peanutbutter balls, shortbread cookies, buttertart squares and cheese cake- all of the things my grandma bakes during the holidays!
6. What is on your wish list this year?
Ugh. My parents have been asking for weeks for my list and I've been dragging my feet putting it together. Yesterday, I came up with:
Magazine subscriptions
Dust Buster
Gift certificates for Amazon, itunes, Starbucks
Luxe Box