Happy Sunday! It is a cold, wet, rainy day here. Thanks to
Katy
, my
Fall Into Fall Swap
partner, my feet are nice and toasty- I'm wearing the socks she sent me and I've been saving them for a day like today!

I had another great, but busy, weekend. This coming week will be hectic as well, but I have a few things that I'm looking forward too- including a staff social on Halloween!
I hope everyone had a great weekend!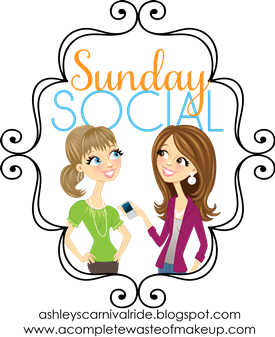 1. What was your favorite halloween costume as a kid?
I have NO idea how old I was, but pretty little (3 or 4) maybe. My dad had these masks- they were bald heads (hair on the side), with glasses and maybe a mustache (not 100% sure). I wore on of the masks, a shirt, with some pillows in it and maybe a tie. I was a bald, old man. That was the year I won best costume at a contest at the mall.
2. If you could go back and dress up as something what would it be?
I have no idea! My parents were pretty good at letting me dress up as whatever I wanted. I was never Cinderella, and I don't believe I ever asked to be, but she's my favourite Disney Princess, so I guess I would go back and dress as her.

3. Favorite costume as an adult?
I haven't really dressed up as an adult and when I have, it's been pretty standard- devil, angel, black cat.

4. Favorite Halloween Candy?
I LOVE Candy Corn! And mini Snickers.
5. Favorite Halloween Memory?
I'm not sure! As a kid, all of my Halloween's have blended together. Half my class lived in my neighbourhood and we would all always end up meeting up and going trick or treating together...even if it wasn't pre-planned, and we just saw each other while we were out.

6. Whats your favorite scary movie?
I HATE scary movies and refuse to watch them