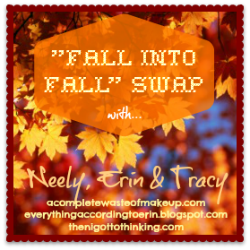 Not only is Katy adorable, but it was nice getting to know her and I had so much fun picking out items to send her. Want to know what Katy got? Check out her post
here
.
Like everyone, I love getting mail! On Monday, when I got home, I had a notice that the post office was holding a package for me. I picked it up yesterday after work. Katy decorated the outside of the package and the postal worker even commented on how nice it looked:
Katy spoiled me with the package she sent!
Notecards- This are super cute and I actually send a ton of handwritten notes, so these will come in handy!
Socks- They are so soft and comfy!
Card from Katy
Nail polish- Golden...it's sparkly =)
Nail files! I moved in August and nail files were something I was in need of. I was actually looking for one yesterday morning.
Lip balm-Who doesn't need lip balm this time of year? It's Strawberry Creme.
Golden Bronzer- I had mentioned to Katy that I love trying new products. I've actually never heard of e.l.f, so I'm excited to give this product a try!
All over cover stick-See above...excited to try it! I've never used an all over colour stick before.
Tissue...I love the print! These are coming to work with me tomorrow!
Wax tart- The scent is macintosh! I LOVE wax tarts and burn them all the time! My apartment has a smoke smell in it so I use the tarts to mask the smell.
Bobby pins- Love the fun colours! This was also something else I needed from my move.
Milky Way- I love Milky Ways...but they aren't available in Canada!
A HUGE thank you to Katy! I love everything you sent! I'm actually burning the wax tart as I type this =)
My favourite part about swaps is finding new blogs to read. Go check out Katy's
blog
, it's just as awesome as she is!