I consider myself a heel girl...I wear heels on a daily basis, with everything and can do
anything
in heels. I have always spent my summers at the beach and in beach towns (I grew up near a Great Lake) and heels are not appropriate beach footwear. So, I basically live in flip flops during the summer months.
I always used to know that summer was almost here when Old Navy had their flip flop sale (2 pairs for $8). I would take this opportunity to stock up on a variety of colours. Because I wore my flip flops so often, there were a couple of pairs that didn't last past one summer. I always loved Old Navy flip flops and found them to be super comfortable- and I still do. I'm still an Old Navy flip flop fan.
But...and this brings us to this weeks favourite thing...a couple of summers ago I was introduced to Havaianas. I heard of Havaianas but was hesitant to spend that much on a pair of flip flops. I was at the mall with a friend, there was a half price sale on Havaianas and she talked me into buying a pair.
Best. Thing. Ever.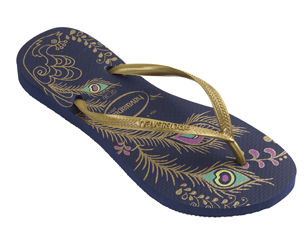 (mine are pink instead of blue)
If you are a frequent flip flop wearer, do yourself a favour and invest in a pair of Havaianas! This are by far the most comfortable pair of flip flops/shoes ever. I can walk forever in them and can be worn with a bunch of different outfits and occasions. Not to mention, I have gotten a few summers of wear and tear out of them and they are still in great condition! Definitely worth the price and one of the best things I have ever bought, at least shoe wise!