Another Sunday, another weekend coming to an end- but it was a fantastic weekend!! Last week was a short (thanks Family Day) but busy (thanks work and social life) week. The highlight of this weekend was an Alumni event held at a Niagara Winery. So. Much. Fun! I had such a great time at the event and getting to know other Alumni...I can't wait for the next event!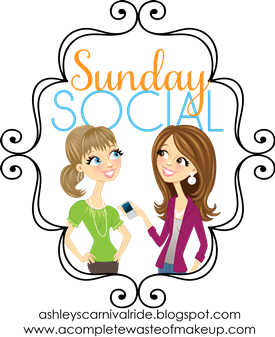 1. Biggest Middle school fashion mistake
I can't think of anything really...They must have been so horrible that I blocked them from my memory...lol.



2. Who were your best friends in hs?
My best friend (who will remain nameless as we are no longer friends...just grew apart during university...and I don't know how she'd feel about being named on my blog) and I did so much together and had a lot of fun. The majority of my memories from high school involve her and I know my high school experience would've been VERY different (and likely not as much fun) without her.



3. What was a typical weekend like for you in hs?
Oh gosh...I seem to think I usually worked on Fridays, but can't say for sure. I would usually go out (as in doing something where you spent money) either Friday or Saturday night, rarely both. If I wasn't going out Saturday night, I would do stuff during the day with friends and then either have friends over or go to someone else's house.

Sunday was the best part of the weekend...hockey! The Junior B team had home games every Sunday night, which the best friend and I ALWAYS went to. So we'd spend a couple of hours at the arena. The night also included going out for dinner and going out for coffee- we'd do one before the game and one after.



4. Did you have any boyfriends/girlfriends? Tell us about that
I had two guys I dated on and off throughout high school. In respecting their privacy, I don't want to go into too much detail. While our relationships were typical of high school (drama filled) and typical for me (complex to others but worked for me), they are both great guys.



5. Did you have any secret codes with your friends? Spill your secrets!
No...I guess we weren't cool enough =)



6. If you could relive one day/moment/experience from middle school or high school, what would it be?
Oh gosh...SO many great experiences, it would be hard to pick one. I have a million memories running through my head at the moment. I would love to go back and relive grade 12. To answer this question, I wanted to say prom, but I feel that's a boring answer. So I'll go with this: Graduation.

I worked four years to make it to graduation. The actual ceremony (where I was given not only my diploma, but Catholic Student of the Year) was fine. But afterwards, me and the BFF were in my car and trying to leave the parking lot. Two male friend was walking towards their car and we asked them what they were doing. They were going out for chicken wings and we asked if we could go. They said as long as we didn't mind being the only two girls, we were welcome to come. So we went.

We spent the night tucking napkins into the guys shirts, so they wouldn't get wing sauce on their shirts and ties. The wings were great, we laughed a lot and it was just a fun night. The night came to an end when one of the guys asked who was going to the school the next day to get final marks- which could be done between 8:30am and 9 or 9:30am (plus, prom was this night). We all got quiet, looked at each other and said we should call it a night.

The BFF and I stopped at Pita Pit on our way home and got pitas. While eating them, went over our game plan for the next day- getting our marks, going tanning, timeline for getting ready, having pictures taken and leaving for prom.

It was the after grad stuff...which I guess, technically because we had just graduated, we were no longer high school students...that I would go back to (for the purpose of this question and just having an answer).

.