Boys Behind the Blog is a monthly linkup featuring your husband/fiance/boyfriend/best guy friend/dad/brother/grandpa! Stephanie & Mal created this link up to brag about their men and get them more involved in their blogs.
Here's how it works: They post the questions on the 1st Thursday of the month, you ask your man to answer 5 easy questions and then link up with us on the
3rd Thursday
of the month.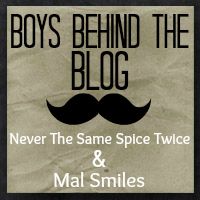 Before getting to this rounds questions, let me tell you a little about the boy. A random text brought us together and a love for the New York Rangers bonded us. He was nice enough to answer the following questions:
1. What would you do with $1,000,000?
I'd do smart things, not just blow it- pay off debts, buy a house, invest some. Maybe take a trip.
2. What is your dream job?
Fire fighter.
3. Who is your celebrity crush?
Kate Upton.
4. What is your favorite sports team?
New York Rangers.
5. What was your AOL/AIM screen name back in the day?
Didn't have one. (Note: AOL/AIM wasn't that popular in Canada...)