Back in February, I had a V-Blate with Kaitlyn from
Wifessionals
and she suggested that I sign up for the Bigs & Littles Network...so I did!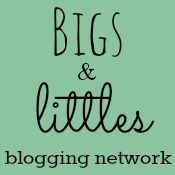 I was lucky enough to be paired with the super sweet Justine from
Sleepy Single Girl
. I quickly fell in love with her blog and she and I hit it off right away. We've exchanged e-mails and had our own V-Blate. We talked for just over an hour and didn't even mention blogging...we were too busy chatting away.
Justine
is so much fun...there was a lot of laughing going on! We have plans to chat again soon and I can't wait!
I am so happy we were partnered together...I look forward to getting to know
Justine
better and maybe even talk about our blogs!