What a rainy weekend! I had hoped to spend the majority of the weekend at the beach, but the rain stopped that from happening. I did have a nice visit yesterday with a friend and I'm meeting my University roommate for dinner tonight. I haven't seen her in over a year (even though I talk to her ALL the time) so I can't wait for tonight.
Before getting to this weeks LOL and Sunday Social...I am giving away some of my favourite things on Neely's blog,
A Complete Waste of Makeup
, so head over to enter. Also, tomorrow I will be introducing a new blog series, so be sure to come back and check it out!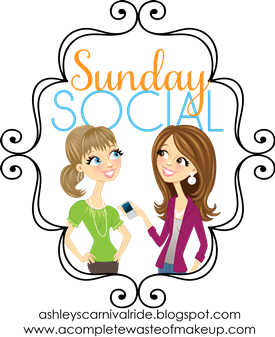 1. What is the name of your blog and how did you come up with it??
One of my favourite songs is Better Man by Pearl Jam. One of the lyrics (and one of my all time favourite song lyrics) is "She dreams in colour/she dreams in red". I dropped the 'she' from the lyric and when I learned that 'Dreams in Colour' wasn't available, I changed 'in' to 'and' and that's how I got my blog name: Dreams and Colour.

2. What do you love the most about blogging??
I've had the opportunity to discover some amazing blogs and get to know the bloggers behind them, which I love. I also love writing...I've always loved writing. I like having my own little corner of the internet, where I can say/do/post what I want.

3. What are your 2 favorite posts you've written?
It's hard for me to pick just two! I love all of my posts...or else I wouldn't have written them.I know it says to pock 2, but I'm picking 4.
The post I wrote in honour of the on year anniversary of my grandpa dying: Grandpa
The post I wrote for my Aunt Mary: Favourite Thing- Aunt Mary
The post I wrote about a now ex-coworker and her being pregnant: Favourite Thing
Finally, an LOL post. "Divert Your Course" makes me laugh every time I read it.

4. What is something you'd want to tell someone just starting out in blog world?
Blog for yourself. Don't do it for anyone else and for any reason besides you wanting to. Don't worry about impressing people. Don't focus on your stats. Most importantly, remember what you post is accessible by the public, by anyone. Don't post anything you wouldn't want your family or employer to read (even if they don't know you have a blog). Even if you delete content, someone can still read it before you delete it. Just be careful.
5. Biggest blogging learning experience you've had?
Blogging is a commitment! You have to set time aside to write, read, comment, etc. When I started out, I had no idea it would take up so much time! But it is worth it in the end.
6. Give us 3 blogs we NEED to be following that you love.
Besides A Complete Waste of Makeup...
Southern Living: Preppy Style
Airing My Dirty Laundry One Sock At a Time
Manicures and Monograms
(Three blogs that I love, but aren't updated as frequently as the three above: Happy Brittany, everyday joy, and Somewhere With You)