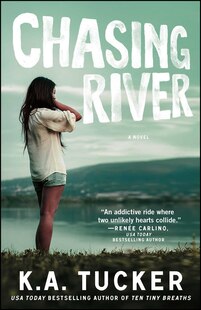 Book: Chasing River

Author: K.A. Tucker
Indigo Summary:
Armed with two years' worth of savings and the need to experience life outside the bubble of her Oregon small town, twenty-five-year old Amber Welles is prepared for anything. Except dying in Dublin. Had it not been for the bravery of a stranger, she might have. But he takes off before she has the chance to offer her gratitude.
Twenty-four-year-old River Delaney is rattled. No one was supposed to get hurt. But then that American tourist showed up. He couldn't let her die, but he also can't be identified at the scene—so, he fled. Back to his everyday life of running his family's pub. Only, everyday life is getting more and more complicated, thanks to his brother, Aengus, and his criminal associations. When the American girl tracks River down, he quickly realizes how much he likes her, how wrong she is for him. And how dangerous it is to have her around. Pushing her away would be the smart move.
Maybe it's because he saved her life, or maybe it's because he's completely different from everything she's left behind, but Amber finds herself chasing after River Delaney. Amber isn't the kind of girl to chase after anyone.
And River isn't the kind of guy she'd want to catch.
What I have to say:
One of my sorority sisters gifted to me
Becoming Rain
, by the same author, which I loved. A friend of mine lent me Chasing River, which is from the same series as Becoming Rain. The book alternates between Amber and Rivers POV- I like when you get to see the story from multiple views. Alex and Jesse, play minor roles in this book, and also played a minor role in Becoming River (Luke Boone, from Becoming River, gets a mention in this book). I like when author's do crossover characters.
Anyway, on to this book. Even though I have never been, I have always loved Ireland. I liked discovering Ireland with Amber and also getting history lessons on the country from River. While the story is a little bit predictably- good girl and bad boy fall for each other, bad boy will do something to make good girl question their relationship, they end up together- there was a lot going on in the plot to keep it interesting.
The sub-plots include River's relationship with his brother's, and Amber's becoming friends with someone who she wasn't friends with in high school but also happens to be in Ireland. Even though this is a "romance", there is a lot of non-romance.
The book was engaging and the plot moved quickly. K.A. Tucker is a fantastic author and this is a fantastic book.
Final verdict: HIGHLY recommended! I read the book in two days and want to re-read it. Not only have I already recommended this book to a friend already, but I went and bought my own copy of this book; I also bought the other two books in the series.