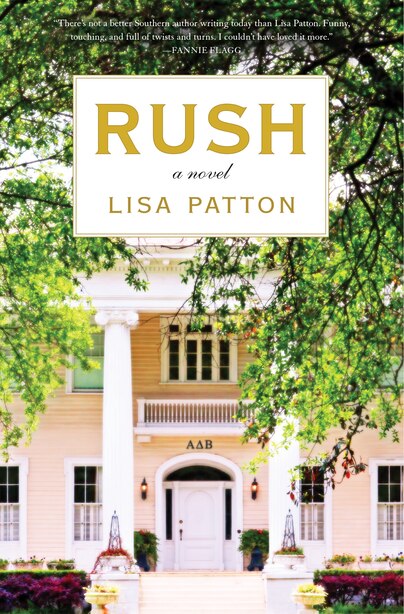 Image via Chapters Indigo
Author: Lisa Patton
Set in modern day Oxford, Mississippi, on the Ole Miss campus, bestselling author Lisa Patton's RUSH is a story about women-from both ends of the social ladder-discovering their voices and their empowerment.
Cali Watkins possesses all the qualities sororities are looking for in a potential new member. She's kind and intelligent, makes friends easily, even plans to someday run for governor. But her resume lacks a vital ingredient. Pedigree. Without family money Cali's chances of sorority membership are already thin, but she has an even bigger problem. If anyone discovers the dark family secrets she's hiding, she'll be dropped from Rush in an instant.
When Lilith Whitmore, the well-heeled House Corp President of Alpha Delta Beta, one of the premiere sororities on campus, appoints recent empty-nester Wilda to the Rush Advisory Board, Wilda can hardly believe her luck. What's more, Lilith suggests their daughters, both incoming freshman, room together. What Wilda doesn't know is that it's all part of Lilith's plan to ensure her own daughter receives an Alpha Delt bid-no matter what.
For twenty-five years, Miss Pearl-as her "babies" like to call her-has been housekeeper and a second mother to the Alpha Delt girls, even though it reminds her of a painful part of her past she'll never forget. When an opportunity for promotion arises, it seems a natural fit. But Lilith Whitmore slams her Prada heel down fast, crushing Miss Pearl's hopes of a better future. When Wilda and the girls find out, they devise a plan destined to change Alpha Delta Beta-and maybe the entire Greek system-forever.
Achingly poignant, yet laugh-out-loud funny, RUSH takes a sharp nuanced look at a centuries-old tradition while exploring the complex, intimate relationships between mothers and daughters and female friends. Brimming with heart and hope for a better tomorrow, RUSH is an uplifting novel universal to us all.
This books was recommend forever ago by Kathleen from Carrie Bradshaw Lied. I purchased this book as soon as Kathleen recommended it and add it to my To Be Read pile. I FINALLY got around to reading this book!! Set in 2016 at Ole Miss we are introduced to a variety of women- all associated with Alpha Delta Beta Sorority in one way or another. The characters are well developed, layered, and interesting. The characters felt real, relatable, and like real people you could know, and in some cases, want to be friends with. This book is about so much more than Sorority Rush, or Sorority life. It addresses race and socioeconomic issues, female and family relationships.
Full of heart and humour, I've already recommended this book to people, and I can't wait to read it again.